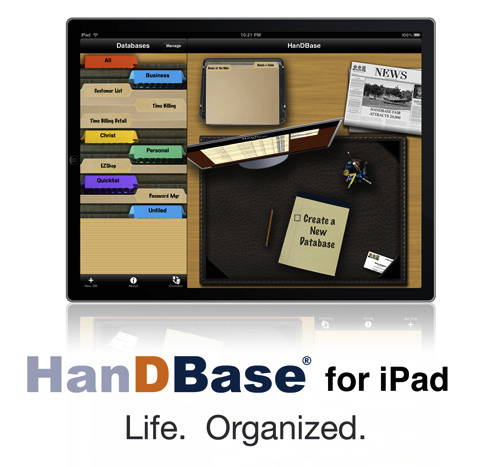 You already know you can't take it with you- your desk that is! It sure would be great to always have every file, every record with you on hand at any given moment- to recall any transaction, customer, or medical record in a flash. To have your shopping list, project organizer, recipe box, or that list of passwords you keep handy in your desk drawer would be fantastic. And to be able to create a new file on the go as you discover you need it- the icing on the cake!
HanDBase on your iPad is the next best thing! Enter and view data while on the go in HanDBase, or create your own custom solutions. In fact, when you keep your data in a HanDBase database, you can do things your old desk and filing cabinet can't:


Fast Searching and Filtering

- see only the information you need.

Sorting

Reports

with charts

Emailing

records of data

Relational

- let one database share and cross reference data with another

Encryption

- encrypt your data so no one can see it but you!

many more features.
Want to...

Synchronize Data

Create Databases

Edit Data

Import/Export
with your
desktop or notebook
computer? We offer optional Desktop programs and conduit add-ons to make this possible:


Are you
already using HanDBase on your iPhone
? HanDBase for iPhone will run on your iPad using the iPhone emulation built into the device. But HanDBase for iPad is worth considering as it adds some unique features:

Every screen optimized for use on the large format of the iPad

Edit text within a record in the same Edit Record screen, no jumping back and forth to a separate text entry screen.

The ability to open and even sync database files that you received via email.

You can now backup and install databases via iTunes and the cable connection.
With HanDBase you can track almost anything!


Shopping Lists

Music & DVD Collections

Project Organizers

Password Manager

Prayer List / Bible Study Notes

To Do Lists

Recipes

Sports Schedules

and plenty more...........

Need HanDBase for business?

Inventory

Field Surveys

Patient Tracking and Billing

Medical Reference

Project Tracking

Estimates

Time & Billing


and plenty more............
We have a gallery of over 2000 Free databases you can use...... Click Here: Database Gallery