| | |
| --- | --- |
| HanDBase for Windows is a desktop companion for HanDBase on your mobile device. This allows you to create, view, and edit HanDBase databases on your Windows desktop or laptop. But it also functions as a standalone database program with many powerful features. | |
View and Edit your Data on your Windows Desktop/Laptop computer!
With the HanDBase Windows Desktop, you can design databases, run reports, filters, sort, and print records using a variety of layouts. You can also create 'mail merge' style templates for customized reporting output.

The HanDBase Desktop also makes importing information from other programs easy by supporting the import of data in the CSV (comma separated values) format possible. You can also export directly to Excel (MS-Excel 97, 2000, 2002(XP)), CSV, Word, HTML, or XML file formats.
HanDBase Desktop for Windows supports forms that you have created using the HanDBase Forms Designer program (available separately or optionally in a bundle). The same forms you create for your mobile device can run on the desktop, and if you desire, you can create separate forms that utilize the larger screen of the computer.

Use Forms created for your handheld or create custom forms for your desktop/laptop.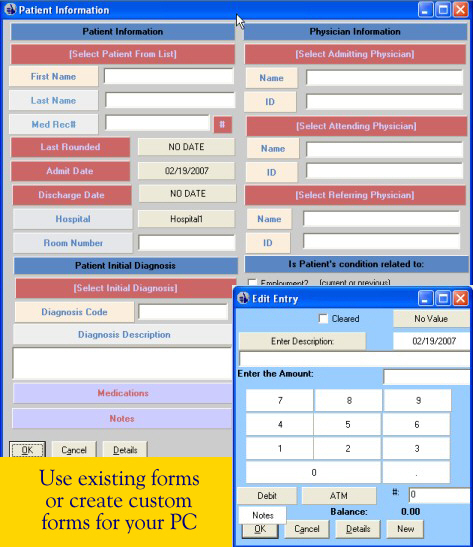 How do you move data between the desktop and the mobile versions of HanDBase?
When using a desktop version, there is always the challenge of reconciling the changes you make on both the desktop and the mobile versions. With HanDBase, there are many optional tools available to handle the challenge!

With the HanDBase Desktop (HanDBase for Windows) software alone, any changes you make will be saved to your local hard drive. From there you can manually install these files to your mobile device as needed. Changes made on your mobile device will manually need to be copied to your computer as well.

If you are going to be making frequent changes on both desktop and mobile device, you may want to consider a package/bundle that includes HanDBase and a synchronization conduit. With these conduits, changes you make on your mobile device will be synchronized with the changes made on your desktop.

If you have multiple mobile device users, these conduits can make consolidating that data much simpler as well with multi-user sync options available for you to configure and control.

And backups are automatically created during the sync, so you can be sure if something happens to your data, you have a way to restore a prior version of the database.

For more information on these bundles, please select the platform of your mobile device:

iPad

iPhone and iPod Touch


Android